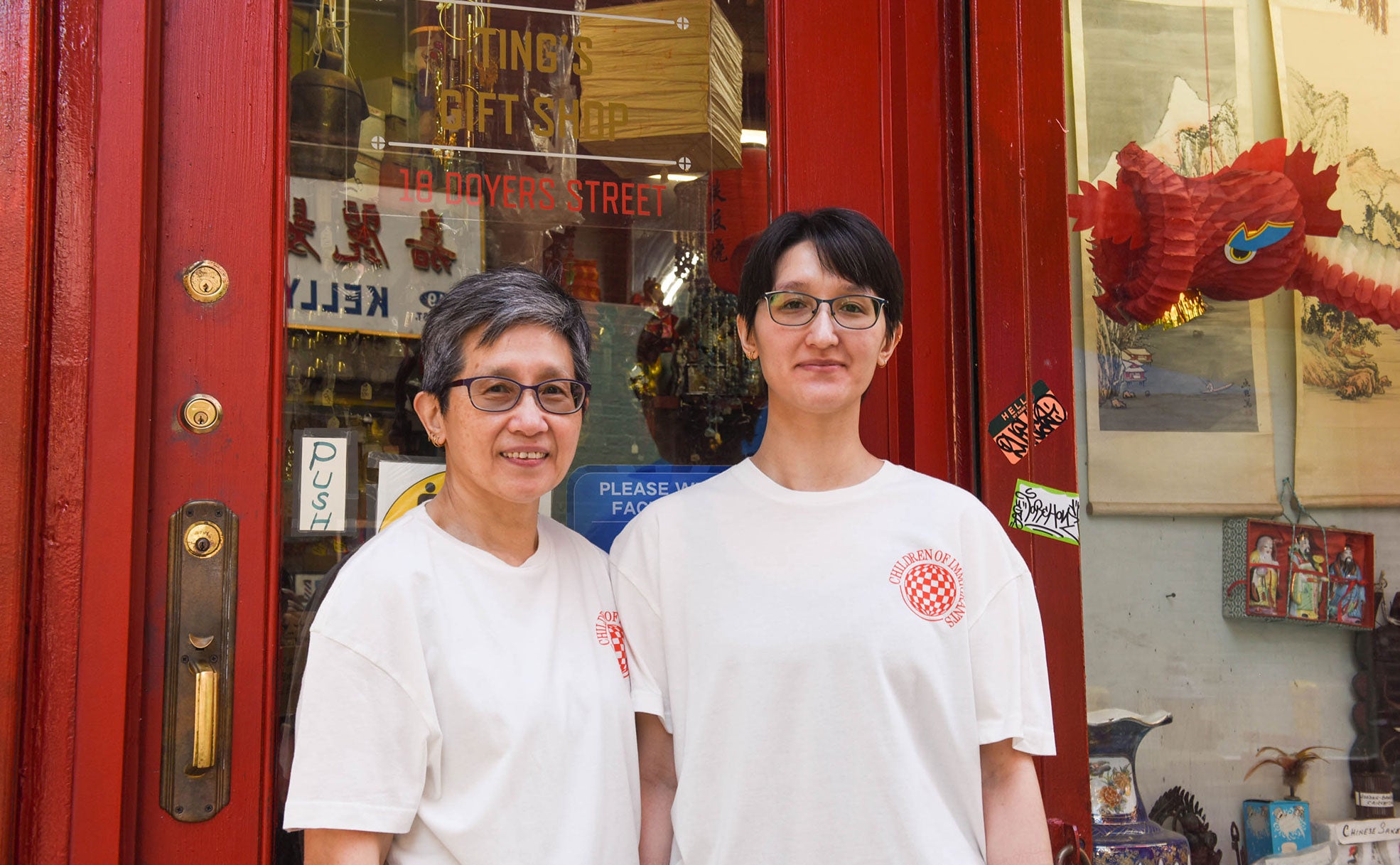 Meet Us At Ting's
In collaboration with NY Forever, we launched line of a limited edition t-shirt and scrunchies in celebration of the AAPI community and the contributions that immigrants and children of immigrants have made in NYC, especially in Chinatown. NY Forever is a non-profit empowering New Yorkers from every walk of life to build a better city for all. From aiding restaurant workers to supporting park cleanups, they proudly advocate for and participate in NYC's recovery.
A portion of profits from this collab will go to Welcome to Chinatown, a non-profit that amplifies and provides resources for the needs of our community and its entrepreneurs. Their goal is that together, we will keep Chinatown open for generations to come.
Meet us at Tings at 18 Doyers St in Manhattan Chinatown from 4-7 pm THIS FRIDAY (5/20) for a collaboration launch party. We'll have drinks from Sanzo, DJing and music from @offffffbrand and @laenzzz, fun prizes to giveaway, and our collab t-shirts and scrunchies for sale!
To continue celebrating our partnership with NY Forever and Welcome To Chinatown, we will also be highlighting some of our favorite Chinatown businesses for the rest of AAPI Heritage month, starting with Ting's (where we're hosting our event!)
Ting's is a treasure trove of items from around the world and the past, selling everything from Chinese dolls and porcelain to knick-knacks and party goods — it's one of those places where you feel transported into a different time and place. 
The shop is packed with layers of treasures that mix Chinatown's past and present. Find beautiful small pieces to bring back home to your loved ones like a vintage lantern, a hand-painted scroll, or a porcelain piece that you can't find anywhere else. 
We caught up with Eleanor and Jona Ting, the mother-daughter owners of Ting's to hear more about what it means to be a staple in the Chinatown community, and what it means to be a child of immigrants!
When did Ting's first open and what was the inspiration behind the business?
Jona: Ting's opened in January of 1958 and my grandpa asked my grandma what she wanted to do in 1958, and she said she wanted to own and run a store, to sell products from everywhere, whatever caught her eye. If it called to her, she got it. And it's that legacy that grandma and grandpa left behind that I would like to see continue.
Eleanor: The store is exactly how she had it, minus the plexiglass, which we added during the pandemic, but other than that, everything is the same. 
What were the challenges you've faced since the start of the pandemic?
Eleanor: During the pandemic we were closed for 6 months, and we followed all the rules and regulations as to which businesses were allowed to reopen, and we were the last to reopen because we're not "essential" but prior to opening, we had to make sure everything was safe for us and for our customers. 
For those who grew up with Ting's around, you expect it to be here. We have a lot of customers who made us their first stop when they first started venturing out during the pandemic just to make sure we're still here. It's our community that has made us a staple.
What does being children of immigrants mean to you or what has it taught you?
Eleanor: Being the child of immigrants taught us how to not take everything for granted. We had to work for what we have, and when our parents came, they didn't know how to speak English. When my mother came, she had a dictionary in her pocket that she would use whenever she didn't know a word. That same dictionary is now a family heirloom.
And she taught me that if you want something? You work at it. It fulfills something in you because you worked at it, you got it, and it's yours. It's satisfaction.
Visit Ting's Gift Shop at 18 Doyers Street in Manhattan Chinatown.